They still got it! After years of accolades and a bustling celebrity chef lifestyle, CulinAriane has retained the je ne sais quois that made the Montclair restaurant one of the finest in New Jersey!
Since 2006, Michael and Ariane Duarte have been operating CulinAriane as a husband and wife team. Although they appear to exist in different hemispheres - Ariane in the kitchen and Michael in the front of the house, the operation of CulinAriane is a shared passion.
CulinAriane is sleek, sexy, and never pretentious, but always refined. Located not on the precipice of a cliff or on ninety pristine acres, but at the corner of Walnut and Pine Streets in Montclair, 07042, it is notoriously difficult to get a reservation at this tiny gem on a Friday or Saturday evening.
I've dined at CulinAriane several times over the last few months, and began with the fleeting, seasonal delicacy, soft shell crab. The crispy crab is set atop a crispy and smoky chipotle cabbage slaw that rivals for the star position.
Another stellar preparation was a delectable fold over ravioli filled with pea and provlone puree and a sage brown butter sauce. Smooth and rich, all I could want was MORE!
The unofficial signature dish at CulinAriane has long been the tuna flower. A playful and decidedly femine presentation, the tuna is accompanied by crispy wontons, a tangy pickled cucumber, and a little punch from wasabi crème fraiche.
Another perennial favorite are the cornmeal crusted oysters with horseradish cream and micro greens. Whether you happened to be a hard-core oyster slurper (like me) or hesitant about bi-valves, once these subtley sweet tidbits arrive at the table, they will inevitably vanish beneath a flurry of hungry hands.
Entrees at CulinAriane always boast the best of the season. The halibut with spring vegetables and morels was not only a beauty to admire, but a fresh delight for the palate to enjoy. Among my favorites are the pan seared sea scallops with forest mushroom ragout, white truffle oil, and mushroom syrup.
The carnivores at the table may well swoon for the impossibly thick double cut pork chop, or the Painted Hills sirloin steak, with parmesan creamed spinach, truffle mashed potatoes, and veal porcini demi glace.
Dessert? Of course. Being a chocoholic, I opted for the chocolate ganache squares with chocolate ice cream, cherry syrup and the devilishly good roasted sea salted Marashchino cherry.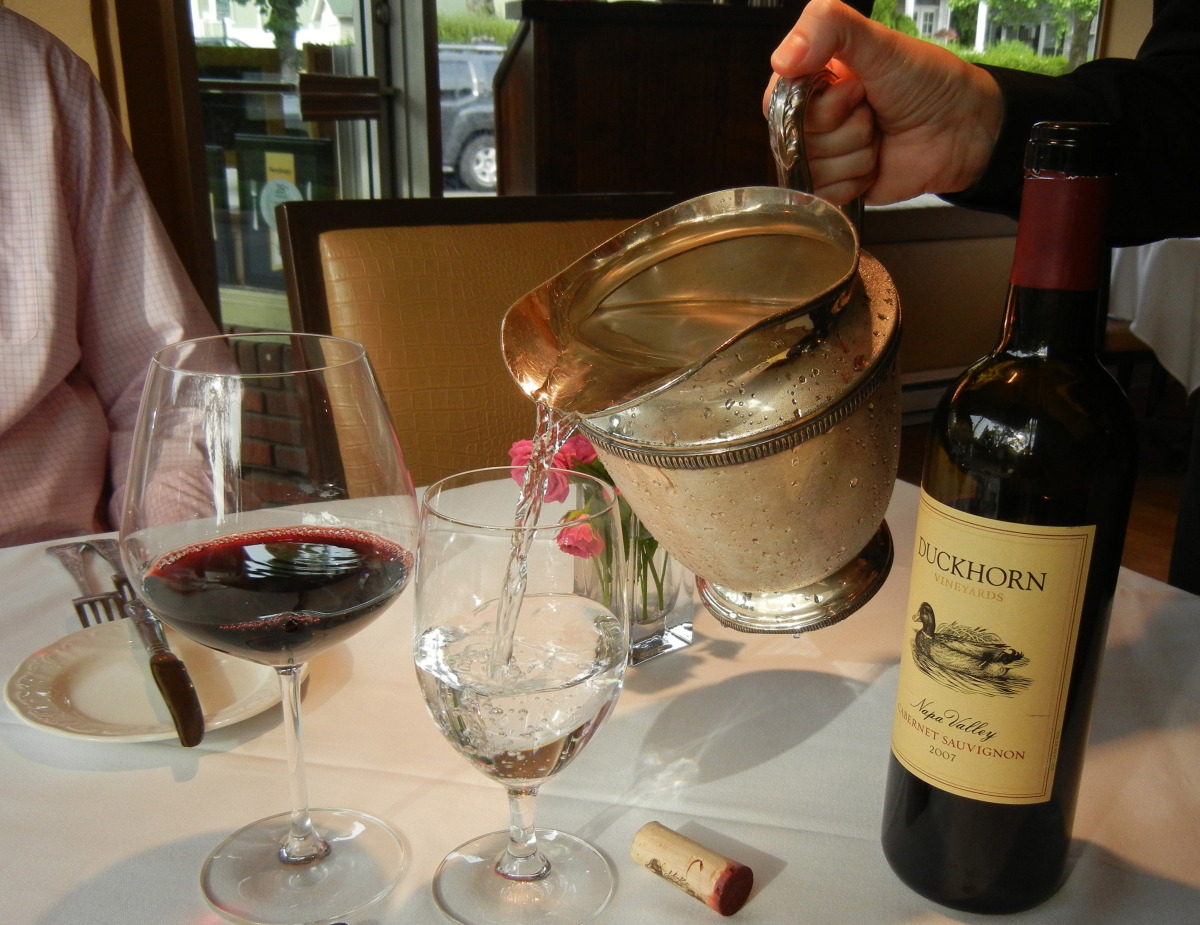 Beyond the food, the little things go a long way. The gracious, attentive, and knowledgeable service has remained impeccable throughout the years. The tiny silver salt spoons on the table, and the silver water pitcher, and the always pleasing amuse bouche or mini-croissants add a level of charm and authenticity to the dining experience.
At CulinAriane, the fundamental things apply: time and attention to food and service. These are the very reasons we go to CulinAriane, and the very reasons we return as time goes by.